Introducing Gradall No. 3
Shown at the Gradall exhibit at CONEXPO-CON/AGG 2020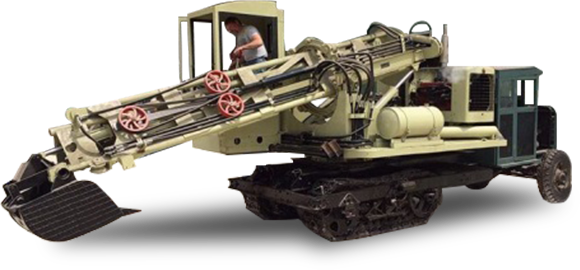 ---
The Gradall No. 3 excavator shown at CONEXPO-CON/AGG 2020 is one of five manufactured in 1945 – the same year the Gradall machine patents were acquired by the Warner & Swasey Co. of Cleveland, Ohio.

The five machines, like the earliest Gradall concepts as well as today's models, were distinguished by their triangular hydraulically operated telescopic booms and excavating buckets. They were the first fully hydraulic excavators ever manufactured in the U.S., enabling contractors to quickly and precisely accomplish finished grading, ditching and other tasks faster and better than hand labor – a scarce commodity through the end of World War II in 1945.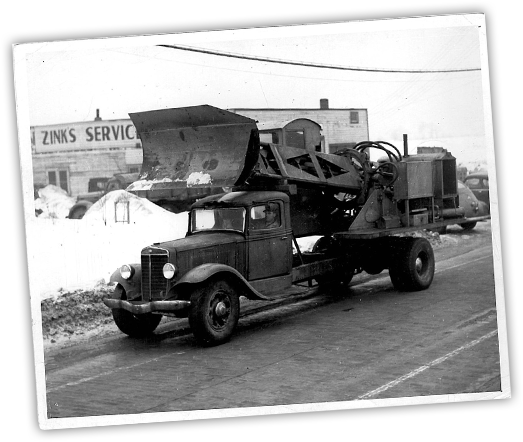 FWF #1 With Snow Plow
Four of the machines were placed in a rental fleet serving contractors building roads and other projects in and around Cleveland, but they were scrapped in 1947 when Warner & Swasey's Gradall Division introduced the M-2400 model. Machine No. 5 was given to Warner & Swasey in 1946 with the patent agreement.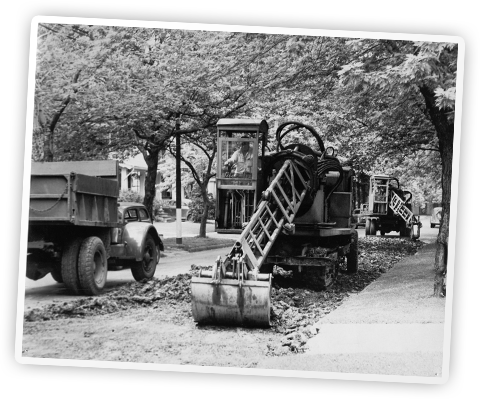 FWF Models No. 2 and No. 3, Cleveland, Ohio circa 1946
In 1946, a Gradall Division inspector came across the No. 3 model in an Akron, Ohio, junk yard and purchased it for $500, transporting it to the Gradall plant in New Philadelphia, Ohio, where it was partially restored.

In 1986, the same machine underwent more restoration to mark 40 years of Gradall excavator production, and in 2002, it was further restored at the Gradall plant for a special equipment display at ConExpo-Con/Agg in 2002.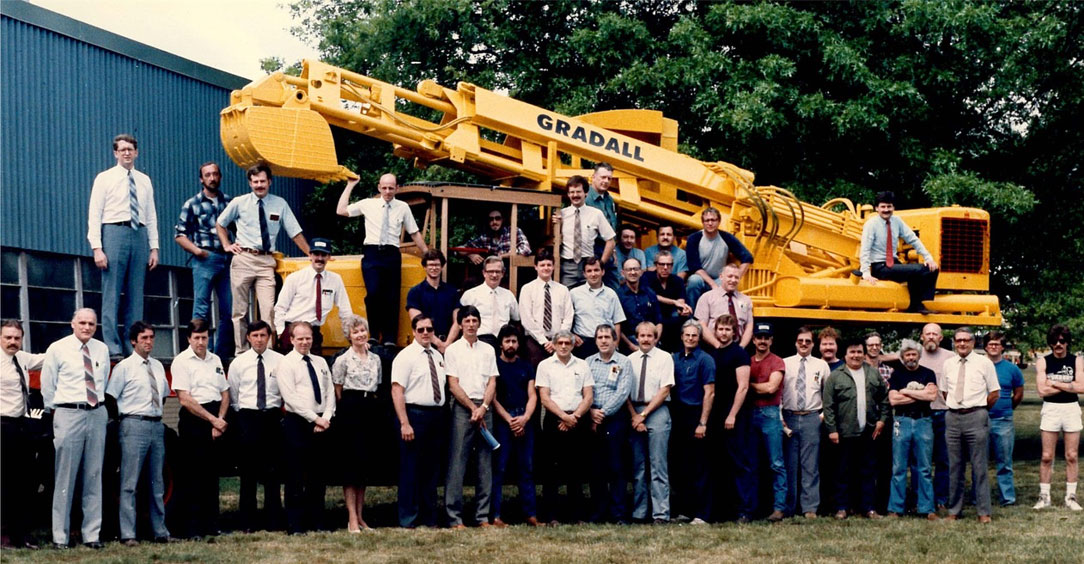 Partially Restored No. 3 Model, 1986
After the 2002 exposition, Gradall donated the machine to the Western Reserve Historical Society in Cleveland, which was to display it at its planned Museum of Transportation and Industry. However, plans for the museum were shelved because of limited funding, and in 2005 the machine was sold to Daryl Gushee, an equipment collector who owned Gushee Rigging and Heavy Hauling in New Gloucester, Maine.

Daryl restored 90 percent of the parts in the Gradall portion of the machine along with its Linn carrier, using a rebuilt Waukesha engine and track drive. The control valves, hydraulic cylinders, hydraulic pumps and boom assembly were restored to working order.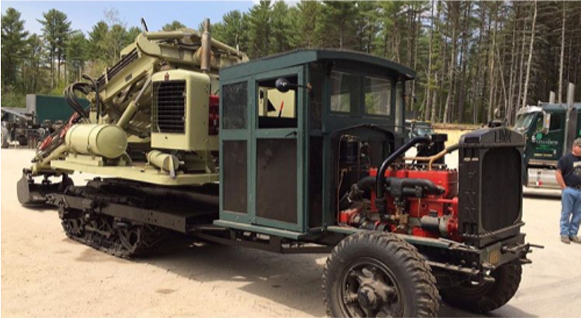 No. 3 Model, Restored by Daryl Hauling
Although Daryl is now deceased, Gradall thanks his family for allowing this machine to be displayed at the 75-year anniversary event during CONEXPO-CON/AGG 2020.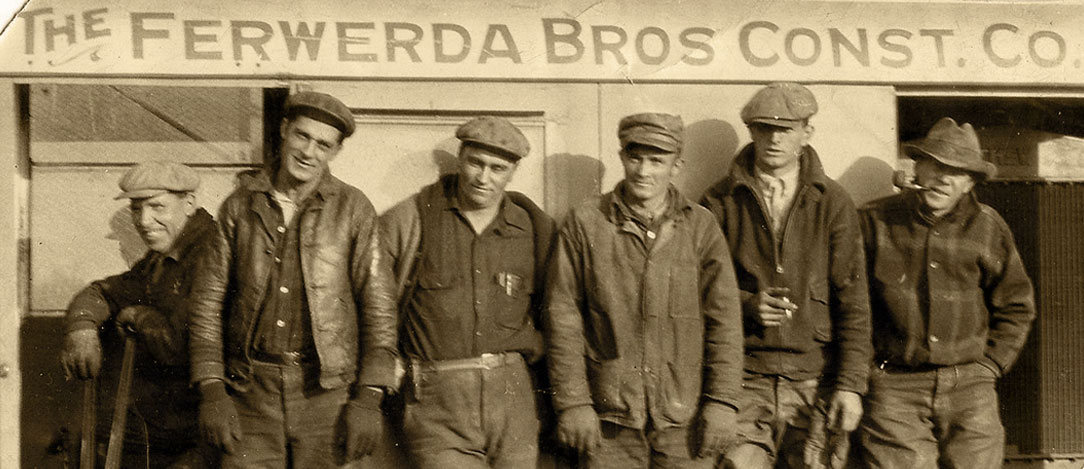 The Ferwerda Brothers, circa 1937
Gradall No. 3 represents a historic note in the history of American construction equipment. The brainstorm of two brothers who were Dutch immigrants, Cleveland contractors Ray and Koop Ferwerda envisioned a productive, versatile finishing machine that would be fully hydraulically powered. Even until the late 1950s, all excavators produced by the major U.S. construction equipment manufacturers were cable operated; Gradall was the only excavator that used hydraulic systems for all operating functions.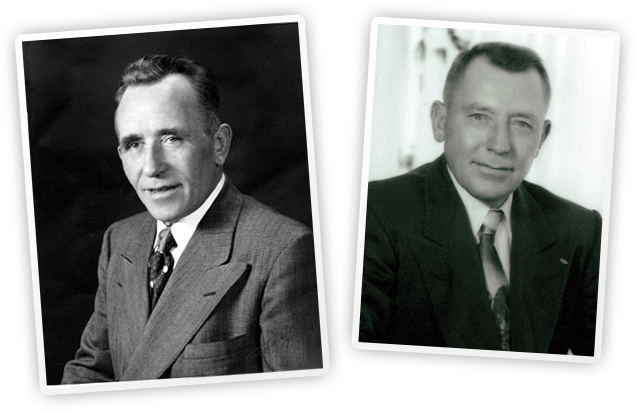 Ray and Koop Ferwerda, 1950
The actual Gradall name is said to have evolved from a comment made by the wife of Ray Ferwerda. Told of the machine's exceptional performance, Evelyn Ferwerda is said to have compared the machine to a giant using its arms to "grade" the earth and its hands to perform "all" of the other work.
No. 3 Model, Independence, Ohio
Today, while other major manufacturers have copied and developed their own hydraulically powered excavators, Gradall is the only brand that continues to be manufactured exclusively in the U.S.
Learn more about the history of Gradall